---
Extrusion
Extrusion, co-extrusion, micro-extrusion, multi-lumen, UV, biocompatibility, fire standard, when it comes to material or to the extrusion process, we have extensive knowledge and expertise.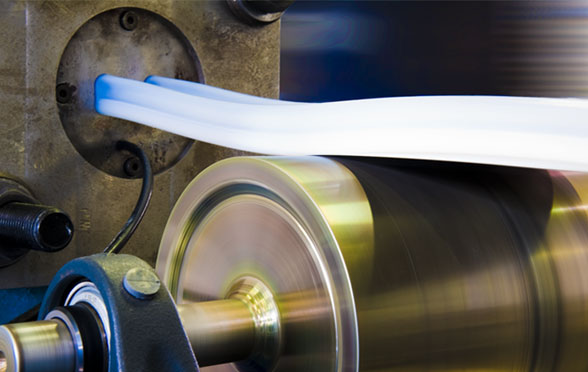 Silicone extrusion takes place after the extruder is fed with raw silicone material, which is then carried through a screw to the die fixed on the extruder head, in order to produce the designed shape. The extruded shape then follows its course on a heated treadmill, before being rolled into a crown to be post cured to set its shape. Extrusion is a manufacturing process by linear meter. In addition to silicone crowns, we can make cuts as desired, and continue processing in our custom fabricated silicone workshop.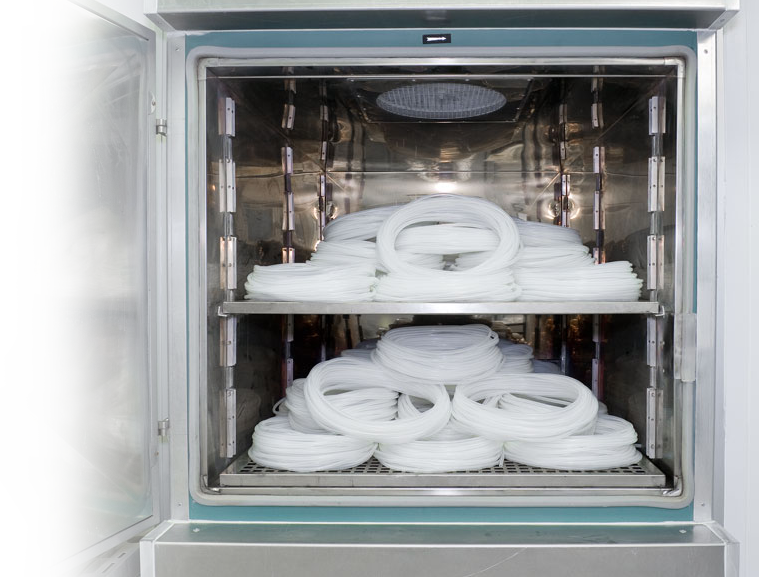 In the extrusion manufacturing process, only solid silicone, such as compact silicone or HCR, may be used.

Sterne offers a broad range of solid silicone that can be customized according to your needs: silicone, Fluoro-Silicone, fluoro-elastomers, rubbers; with hardness from 7 to 98 Sh A +/-5 and tolerance following the ISO 3302-1 Cat. E2, E1 even tighter when necessary.
Our equipments
We have extrusion lines for screw diameters from 40 to 90mm, including industrial lines and cleanroom lines (ISO 6, ISO 7 and ISO 8)
We are equipped with post-cured ovens and external mixers specific to each kind of production environment.
---
Your requirements, our priority